Nothing can stop MIT students from dancing, not even stay at home orders. 
Two years ago, when second-year EECS & Economics student Joy (Xingchen) Feng was deciding where to attend college, she was concerned about having artistic outlets beyond class. "I was worried about MIT's connection to the arts. I'll be straight about that," she says. "[When I visited campus,] I remember talking to Grace Yin, and she convinced me that arts at MIT were not dead. So I ended up coming to MIT, and the community and everything I found here in the arts is really touching and unexpected."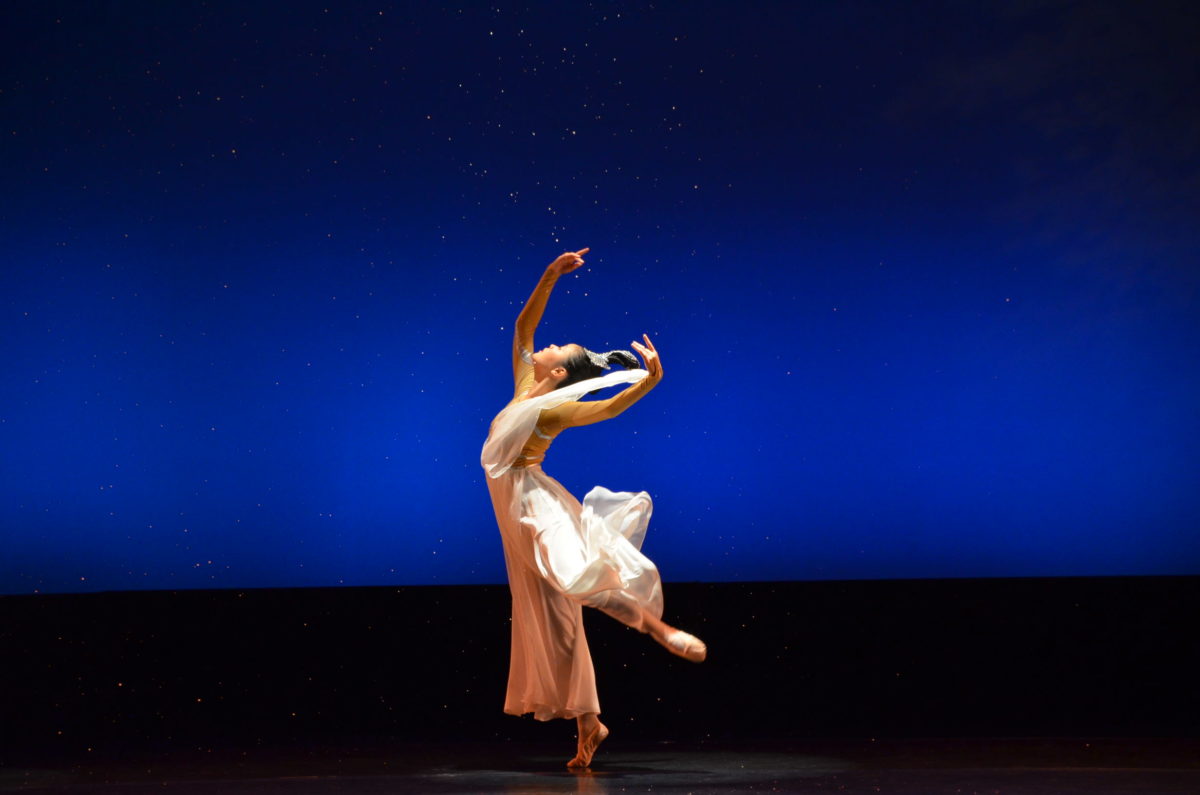 In addition to playing piano and cello, Joy has studied dance since age four. "I danced at a studio in the Bay Area called China Dance and Arts, and I trained in ballet, jazz, contemporary, and classical and ethnic Chinese dance, all of which are very different and very interesting." Upon arriving at MIT, she quickly became involved in the arts, auditioning for dance ensembles and becoming the ensemble director of MIT's first cello ensemble, Cello++. Joy is also an MIT Arts Scholar, and performs with the Chamber Music Society. 
The dance community is an on-campus family.
"I've been really, really grateful for [it]. The dance community at MIT is very strong," Joy said. In her experience, MIT students take to dance easily: "Everyone at MIT is really smart… So they all pick up dance very fast, but in very different ways." As a senior choreographer for Asian Dance Team (ADT), Joy often gets to witness the learning process firsthand. She says, "One of my happiest moments at MIT was my freshman spring, when I choreographed my first dance for ADT. …Since most of them didn't have dance experience, I really got to see them grow. And I remember seeing them on stage for the first time…watching from the wings. I was so, so proud." 
Joy's connection to dance as an art form seems largely rooted in her pedagogical experience with choreography, which also contributes to the community-building aspect of dance that drives its robust presence at MIT. She says, "As a choreographer, I'm teaching a lot of people who've never had exposure to dance before, and it's very gratifying that after a semester, you really see how much they've improved." Much like in the classroom at MIT, the social and educational aspects of dance participation are intertwined: students connect by learning together, teaching each other, and growing both individually and collectively as they work toward a common goal. This process fascinates Joy: "I think this difference in [learning] styles and how people develop as dancers is really interesting," she says.
Through dance and other campus activities, MIT students foster friendships both within and outside their academic programs. Joy mentions that she has many "pset friends" on her dance team, but she has also made many close friends from outside her course, which she says keeps her grounded: "It reminds me that there are other things going on in the world besides what I'm studying, and I've learned a lot from these friends that I couldn't possibly have learned in my coursework." 
Dancing allows MIT students to engage outside the classroom.
Dancing helps them unwind, but also aids creative problem-solving. Joy finds that rather than distracting from her coursework, dance often helps: "It really takes my mind off things for a bit, and when I turn it back on to academics, it makes everything a little more crisp… Sometimes I will be dancing, and then a thought will just pop into my head. I'll be like, 'oh, what if I solved this piece of the problem this way?' I also think dance is a good de-stressor." 
Joy feels supported at MIT in her artistic pursuits, especially given the strong academic and extracurricular music offerings available, and the opportunity for student groups to apply for grants from the Council for the Arts at MIT (CAMIT). Dance groups thrive on campus in spite of challenges posed by MIT's limited dance facilities. Joy says, "[Space is] one of the biggest struggles for a large dance team. [Because] we're a student organization, we don't have priority in booking spaces, [and] we always hold our auditions and showings in the Burton Conner Porter room, but now BC is closing." 
Having access to Boston's dance scene provides many opportunities for MIT dancers to perform, compete, and skill share. Joy is a member of local pre-professional dance company Dance Revelasian, with whom she competed at the Taoli World Boston Regional Competition in November; the team won the Gold divisional title and went on to the Taoli World Championships, scoring the highest in their competitive age group. Joy has also sought dance opportunities outside the Boston area. While interning in New York City this January, Joy trained at the Broadway Dance Center, which she identifies as a particularly valuable experience: "I think when you start taking classes at the big studios with well-known choreographers, you see how everyone has their own distinct style, and you start learning more about your own style and the way your body likes to move." 
Discussing the COVID-19 campus closure, Joy says, "one of the hardest parts of leaving for me was leaving my dance team." Although physically apart, the MIT dance community has tried to stay connected. During their first week off campus, Joy mentions that none of the ADT Executive Committee members and choreographers had taken rehearsals and meetings off their Google calendars, so "during rehearsal time, we called each other. We were like, 'oh, let's have rehearsal.' And then we played music and danced (badly) on Zoom together." 
While MIT's dance groups are not likely to be able to host showcases this semester, they are trying to remain active and accountable, posting videos using the hashtag #socialdisdancing, and continuing to organize community activities. MIT Ridonkulous, MIT's urban dance crew, used the week leading up to their would-be showcase, Footwork, to raise money for Boston's Resiliency and Artist Relief Funds, stating that they "want to direct the energy and time spent on Footwork to helping the Boston community, which has been integral to [their] college experience." ADT is hosting weekly video workshops for its members called "ADTogether every ADThursday." They encourage students to learn from these workshops and post their dancing on social media, which ADT then reposts to its Instagram stories. Joy says, "It's been really heartwarming to see the ADT community come together during this time. Though I miss them lots, I know that when we do get to see each other again, it'll be like we never left."  
No matter what the future brings, Joy plans to continue dancing, even in quarantine: "I'm trying to learn one TikTok dance a day," she says, "I think that's the plan for now."
—
MIT has more than 20 student-led groups through which MIT students and community members can learn or practice dance. While Dance Troupe has historically been the largest and most varied dance organization at MIT, ADT has recently surpassed it in size, with 270-300 students involved in producing its showcases, workshops, and cover videos.