The Lorelei Ensemble performs Elena Ruehr's Songs from Extrasolar Spaces. Credit: Danny Goldfield.
The Lorelei Ensemble performs Elena Ruehr's Songs from Extrasolar Spaces. Credit: Danny Goldfield.
Illustration of NASA's Transiting Exoplanet Survey Satellite (TESS) in front of a lava planet orbiting its host star. Credit: NASA.
TESS, NASA's Newest Planet-Hunter. Image credit: NASA.
Lorelei Ensemble. Courtesy of the artists.
Elena Ruehr's Songs from Extrasolar Spaces
2019 Fay Chandler Creativity Grant
Exoplanet astronomy has sought to answer fundamental questions about humanity's place in the universe: What is essential for life? Are we alone? Are we unique?
NASA's Transiting Exoplanet Survey Satellite (TESS), launched in April 2018, aims to survey 85 percent of the sky in the search for new planets. The Songs from Extrasolar Spaces concert sets this mission to music during the MIT TESS Science Conference, the first academic gathering dedicated to TESS mission science, including exoplanets, asteroseismology, stellar binaries, variable stars, Solar System science, and extragalactic astronomy.
For astronomers and the public, the concert serves as an opportunity for reflection on the progress made in answering these questions and as a source of inspiration for what is to come in the human search for understanding.
Songs from Extrasolar Spaces features Boston's Lorelei Ensemble performing works by composers Meredith Monk and Molly Herron, and premiering new works by Institute Professor John Harbison and MIT Music and Theater Arts Lecturer Elena Ruehr. The lyrics for each piece are inspired by discoveries in astronomy — exoplanets, in Ruehr's case. She explains, "As a composer, discovering new works that express the beauty of infinite space has long been an idea of mine. My work was specifically written to make a palette that transcends space and time."
Songs from Extrasolar Spaces is presented with support from TESS, Northrop Grumman, the MIT Center for Art, Science & Technology, MIT Music and Theater Arts, and the Lorelei Ensemble.
Elena Ruehr says of her music: "The idea is that the surface be simple, the structure complex." Her work has been described as "sumptuously scored and full of soaring melodies" (The New York Times) and "unspeakably gorgeous" (Gramophone).
An award-winning composer at MIT, Ruehr has also been a Guggenheim Fellow, a fellow at Harvard University's Radcliffe Institute for Advanced Study, and a composer-in-residence with the Boston Modern Orchestra Project, which performed and recorded her major orchestral works (O'Keeffe Images, BMOP Sound) as well as the opera Toussaint Before the Spirits (BMOP Sound). Three of her six string quartets were commissioned by the Cypress String Quartet, who have recorded Six String Quartets by Elena Ruehr (Avie) with the Borromeo Quartet and Stephen Salters.
Ruehr's other recordings include Averno (Avie with the Trinity Choir, Julian Wachner conducting), Jane Wang considers the dragonfly (Albany), Lift (Avie), Shimmer (Metamorphosen Chamber Ensemble on Albany), and Shadow Light (The New Orchestra of Washington with Marcus Thompson on Acis), among others.
More at the artist's website: Elena Ruehr
Past Events
Songs from Extrasolar Spaces
Tuesday, July 30, 2019
8:00-8:30pm: Public lecture
George Ricker, TESS Principal Investigator; Sara Seager, TESS Deputy Director of Science; and Natalia Guerrero, TESS TOI Manager
8:30-9:00pm: Program of music by Lorelei Ensemble
Featuring world premieres of new works by John Harbison and Elena Ruehr
Kresge Auditorium, MIT Building W16
48 Massachusetts Avenue, Cambridge, MA

Natalia Guerrero
is an astronomer committed to drawing connections between science and the arts. She works at the MIT Kavli Institute for Astrophysics and Space Research identifying exoplanet candidates as the TESS Objects of Interest (TOI) Manager and MIT-TESS Communications Lead. She​ studied physics and creative writing at MIT and graduated in 2014. In addition to planet-hunting, she creates works for theater and radio and makes multi-media art inspired by her experiences in astronomy and particle physics.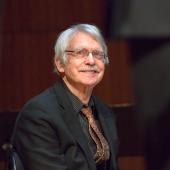 Institute Professor and composer John Harbison is among America's most distinguished artistic figures. The recipient of numerous awards and honors, among them a MacArthur and a Pulitzer, Harbison has composed music for most of America's premier musical institutions, including the Metropolitan Opera, Chicago Symphony, Boston Symphony, New York Philharmonic, and the Chamber Music Society of Lincoln Center. His catalog includes three operas, six symphonies, 12 concerti, a ballet, five string quartets, numerous song cycles and chamber works, and a large body of sacred music that includes cantatas, motets, and orchestral-choral works.

Lorelei Ensemble
advances the women's vocal ensemble through passionate, engaging artistry and creative collaboration. Committed to a fresh and culturally relevant repertoire, Lorelei reimagines and cultivates bold compositional voices in performances that transform audience perspectives and expectations. Heralded for its "warm, lithe, and beautifully blended" sound (
The New York Times
), "impeccable musicality" (
The Boston Globe
), and unfailing display of the "elegance, power, grace, and beauty of the human voice" (
The Boston Musical Intelligencer
), Boston's Lorelei Ensemble is recognized nationally for its bold and inventive programs that champion the extraordinary flexibility and virtuosity of the human voice. Lorelei is an all-professional vocal ensemble, featuring nine women whose expertise ranges from early to contemporary repertoire, and whose independent careers as soloists and ensemble singers across the globe lend to the rich and diverse vocal palette that defines the ensemble's thrilling delivery of "exact, smooth, and stylish" programming (
The Boston Globe
). Under the direction of founder and artistic director Beth Willer, Lorelei Ensemble has established a remarkable and inspiring artistic vision, curating culturally relevant and artistically audacious programs that stretch and challenge the expectations of artists and audiences alike.
Elena Ruehr. Photo by Aynsley Floyd.